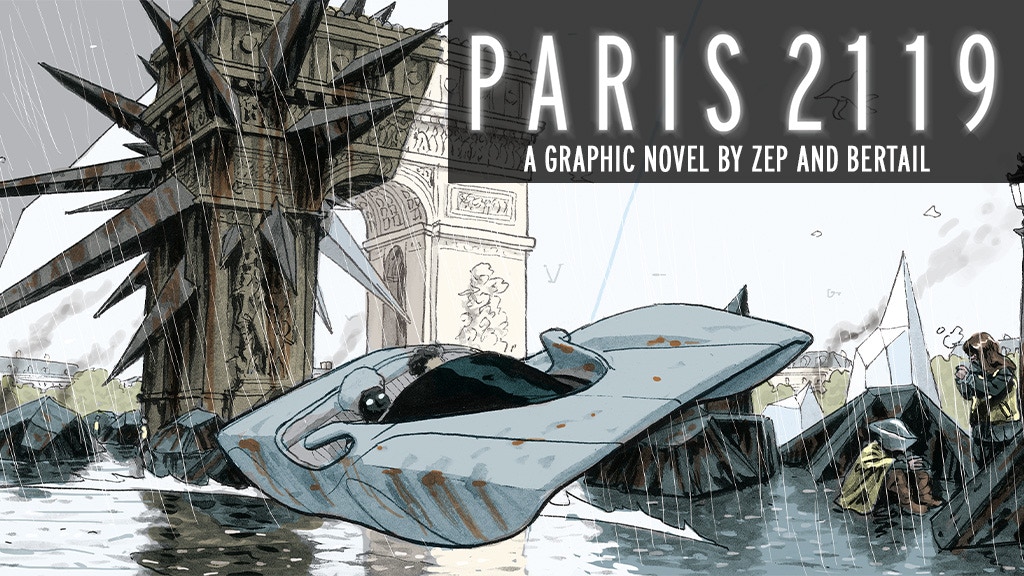 PARIS 2119: a deadly, dystopic romance
Created by Neurobellum Productions
Black Mirror meets Blade Runner in this deluxe graphic novel by Zep and Dominique Bertail with exclusive variant cover by Peach Momoko.
Latest Updates from Our Project:
oh, yeah...
10 months ago – Wed, Jul 15, 2020 at 06:35:42 PM
...Happy Bastille Day everyone!
The next goal is gonna be AMAZING...
10 months ago – Tue, Jul 14, 2020 at 12:38:38 AM
Hey everyone! Hope you had a great weekend!
We spent ours nailing down the details on what we think will be a KILLER bonus for everyone... assuming we can hit this next stretch goal...
Since we're nearly at $30k at the time of this writing, we decided to set this one just far enough out to be a fair stretch but hopefully not an unrealistic one.  So if we can hit $37,000, we're going to produce a really sweet, Magnetic-quality, perfect-bound exclusive art book featuring 8 (or more) amazing guest artists!
As teased in the last update, we have several fantastic Friends-of-Magnetic on board to contribute to a glossy "Future Paris" art book, paying tribute to Zep and Dom's PARIS 2119 tale, while also illustrating some of the world events that lead up to it over the next 100 years... sort of a speculative "future history" art book, but also including even more production art and insight from Zep and Dom's original design as well.
And today we're revealing another of these amazing guests: ASHLEY A. WOODS!
We've been huge fans of Ashley's for years, and her cover for BLACK COMIX RETURNS still blows us away. She's excited to join Zep, Dom, Peach, and Bengal and the other secret participants in this sci-fi playground.
We'll reveal another participant every day, by which point hopefully we'll have unlocked this spectacular extra. (Did we mention backers will get it for FREE?) And if that happens to be the case... there just might be a few more names ready to add to the guest list... ;)
So spread the word and drag everyone you know along for the ride! It'll be more than worth it!
International shipping news! Ambassador Points! And a sneak peek at the next stretch goal!
10 months ago – Mon, Jul 13, 2020 at 09:14:49 PM
Hello, everyone! 
Hope you are all having a wonderful weekend -- we know we've been a bit silent the last few days, not for lack of presence but just working on getting a few important things ready to announce. And we're happy to start off with this first big announcement:
After putting together some rough shipping estimates for all of the territories currently included among our community of backers, we were shocked how expensive shipping a simple package to some of those places would be. While we have done this before and have shipped overseas, the volume and rates seem to have grown a lot since then. And the last thing we want to do is surprise some of you with crazy $80-100 shipping fees for a reward tier half that value.
So, considering that nearly 15-20% of you are international, we will be partnering with a fulfillment operation in the UK who specializes in reduced-cost shipping throughout the EU and beyond. (Yes, we're told that includes Australia, New Zealand, Singapore, Japan, etc, although those rates might still be slightly higher coming from the UK...) Once we factor in drop-shipping and other associated costs, we estimate shipping to most EU territories will be a much more reasonable $7.50 (USD) packing/handling + actual courier costs (~$5-15 USD). So possibly as low as $13 USD up to $25, depending on territory, any special customs forms, etc. (Again, some of the intercontinental rates might be higher, though... we should have more information on that next week.) These are still estimates, but much more comfortable ones.
So if you've been on the fence because of the potential gut-punch of international shipping costs, this news should hopefully ease that concern quite a bit! :)
Ambassador Points: What are they?
Some of you have asked about the "Ambassador Points" mentioned in our reward description section:
For those of you unfamiliar with Magnetic Press's former Ambassadors Club (which will be relaunching soon), it was a 'fan club/subscription service' wherein members could earn points for a wide variety of activities that supported the Magnetic brand: webstore purchases, social shares, likes, etc. While the club itself isn't quite ready to relaunch just yet, the Point System is still very much alive on our webstore: https://store.magnetic-press.com/pages/ambassador-point-program
Basically, for every dollar spent at checkout, you are awarded 10 Ambassador Points. These points can be redeemed for various rewards, including discount codes and webstore exclusive items. Some very exclusive items can only be purchased with Ambassador Points. (Admittedly, currently, only discount codes are available to redeem, but we will be introducing more VIP Point-based exclusives very soon...)
If you back this campaign, you will receive a number of points equivalent to your pledge purchase -- ie. you'll get 10 points for every dollar pledged. So if your final pledge is $30, you'll get 300 points. Pledge $65, you'll get 650 points. Pledge $200, get 2000 points. Regardless of tier, it will be based on the final pledge amount, so if you manually increased your pledge but didn't change tiers, you'll earn points based on the pledge itself.
If you already have a webstore account, your points will be manually added to your balance when your Pledge is successfully collected. If you don't have a webstore account at that point, please sign up! It's free to register, with no purchase required! 
The next big thing
We are soooo close to revealing the next stretch goal... we've got EIGHT AMAZING GUEST ARTISTS lined up for a supplemental extra that will further expand the PARIS 2119 world and reading experience. We're only just haggling internally on the format of that thing. I think we're close, and think we might be ready to pull back the curtain on Monday...
(But how about a sneak peek first...?)
Thanks again, everyone!
Have a great weekend!
Coin unlocked - next up: BGM OST!
10 months ago – Wed, Jul 08, 2020 at 01:40:38 AM
Hey everyone!
Well, you all just refuse to slow down. Not that we're complaining! Not in the least! We just thought we might've bought ourselves a little more time on that last stretch goal for the challenge coin, but you all knocked that one out in less than 12 hours of our posting about it! Woot! So each of you (at the physical tiers) can expect one of those beauties in your package this Fall! And once the campaign is done and we have our final backer count, we'll know how many might be left over to offer as add-ons. Stay tuned for that.
So what's next?
Well, we did tease $25k as the next milestone, and this time we'll stick to that promise. So if we reach $25,000 we will produce an original BGM OST ("background music original soundtrack") to accompany the reading experience!
If you liked the music we made for the trailer and interview videos, that "Main Theme" is just a taste of the pseudo-retro ambient mix you can expect from the full 30+ minute score.
Neurobellum has appropriate creative DNA for this sort of project, having composed the score for the 1993 cyberpunk OVA Anime 8-MAN AFTER and the live-action adaptation that followed. We think the PARIS 2119 BGM OST will be just as suitably moody.
Okay, <shrug> then what? You mentioned something involving a dozen popular artists...?
Yes, we did. And we're still confirming those 12 (as quickly as we can). But we learned our lesson on these last two stretch goals so we're not going to set or announce anything prematurely. We're pretty confident we'll have something ready to announce very, very soon, but we don't want to lock it to a specific number or suggest anything without full details before we're ready. So let's focus on this next goal and we'll take it from there, okay? :)
Once again, thank you for your support, and keep spreading the word!
NEW STRETCH GOAL CONFIRMED: Collectible Challenge Coin!
10 months ago – Sat, Jul 04, 2020 at 05:01:56 PM
Hello, everyone! We hope you're all getting ready  or already in the midst of a nice holiday weekend!
We're looking forward to some R&R ourselves, but first we wanted to make sure everything was ready for the next cool reveal: the next stretch goal!  We had some of the details jotted down in our notes at launch, but truly didn't expect to reach our third stretch milestone so soon. So we wanted to make it extra-special which required a little more preparation... but now we can share it with you!
If (when?) we hit $20k, everyone who pledged for a physical tier (everything above the digital-only tier) will get one of these beautiful 2" metal "challenge coins" featuring Peach's cover art FOR FREE!
The factory is in the process of converting the artwork into a bas-relief "sculpture," so we'll try to share that once its ready. It's going to look NICE, though. And we will only mint as many as we need for this campaign, so they will definitely be collectible!
A few notes: these will be one-per-pledge/backer, not per-copy of the book! So those of you who pledged for extra copies of the book, or pledged at the retailer level, we are only accounting for one per instance. Having said that, however, once the campaign is finished and we know how many we need, we will likely have to round up to the nearest hundred, so we will have some extras (unless by some wild circumstance we have a perfectly even number of backers, but in that case we might throw in 100 just for coverage). We will make those extra coins available afterward as add-on purchases through Backerkit. We haven't settled on a price yet, but that might depend on the quantity and demand. We'll reveal some of our add-on strategy next week and will include these in that outline.
"Wait... wasn't it set at $16k before...?" you might be asking. Sharp eyes.
Yeah, it was, but as we mentioned, we were admittedly caught unprepared. And by the time we had the details in place, we were already past $16k. And what's the point of a stretch goal incentive if it's not looking forward? As of now, we're nearly at $18k, so at this rate, there's a good chance you'll have this gorgeous freebie secured very soon.
"So what can we do to get the project past that milestone?" you might also be asking.
Well, you can upgrade your pledge to a higher reward tier. That's one way. You could increase your pledge by $25 to add another copy of the book for a friend or loved one. Or if you're happy where you're at, you can help spread the word to bring in more backers. That's always a HUGE help. :)  Maybe tell your comic shop about the project and get them to come in at the Retailer tier. Hopefully, this added incentive will help tip some undecided folks into joining the project. That's where the real momentum comes from: more people! So share the link on your social channels, in topic-related forums, with your bookclub or gaming group... everyone is welcome! :)
"Okay, assuming we can all work together to get past $20k, what's next?" GREAT question.
We're quickly getting those details in place now, but without giving away any surprises, it will involve a dozen other amazing popular artists. We've got half of them committed right now with just some scheduling wrinkles to iron out on the rest. Hopefully we will have all of that ready to reveal if/when we cross this current milestone...
Thanks again, everyone! We're excited to have you all along on this ride!